Okay, I'm Cel, I'm a self-taught artist with a passion for Victorian lit and such. Gothic horror is my favorite so I guess I want to get that intensity and story into my drawings. Okay, so I'm nowhere near there yet, but it's certainly what inspires me. I want to take my art to the next level with real critiques; so many place are just there for pats on the back without any actual advice. You can see my current drawing level at my da account. I know that it's pretty bare, there's not a lot that I've been able to scan (my old computer wouldn't work with my scanner), but I will be soon. One thing that I am planning is a comic, but I'm not going to post much of the plotline until later.


Just because I have so little new stuff, I'm posting these pictures so that you can see that I have unposted sketches in the same style. Sorry about the poor quality photos, they were taken with a digital camera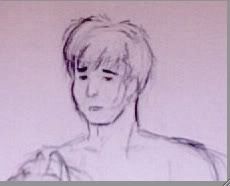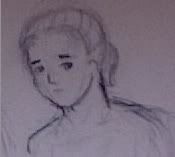 This second guy will be the main character for my comic (more or less, he might be altered some), he is very young in this one, he gets a little rougher looking as the story goes on.


So yeah, hopefully I'll be able to join, I just want to improve before school starts next year. I know that I don't have a lot of finished work lately because of a very, very busy spring, but hopefully you'll let me join. I'm a sweetheart, but I will make legitimate critiques. I want to get harsher critiques myself so that I can improve without so much attachment.

If I don't rate an invitation this time will you please let me know what I might be able to do to improve my odds next time? Thank you.